Our brand new release just in time for the holidays is
"Heavenly Christmas Film Classics"
as fully described on the front and back DVD covers shown above. Watch a video preview down below. You can read more about it or order today from
"Lost and Rare"
site. It shortly will be for sale at Movies Unlimited, Alpha Video, Amazon and others. This rare collection of vintage holiday films is
the perfect Christmas gift
to watch on Christmas Eve after opening presents.
The idea of issuing an exclusive line of DVDs began about a year ago when partner Derek Myers acquired the James Mason film
"Star of Bethlehem"
which neither of us had heard of. We did not know the celebrated, accomplished British actor was a Christian who wanted to produce religious films as an expression of his faith. He found time to make this film between his work on
A Star is Born
and
20,000 Leagues Under the Sea.
This "Portland Production" is named after his daughter who appears in the film as Mary, mother of Jesus. All actors in the Nativity re-enactment are children, with Jerry Mathers as Joseph! James' wife, Pamela, also appears in this family production. The film is not listed at IMDB, although a second Portland Production called "The Child" is.
Derek and I wanted to put out this one film ourselves and found five other rare Christmas films to go with it. Bob Campbell joined the team to form
"Lost and Rare Film & TV Treasures"
series early this year which resulted in
Heavenly Christmas
and
Golf Mania!
becoming our third and fourth DVDs.
The word "Heavenly" crept into the title since the films are of a spiritual nature. Two of them tell the eternal Nativity story about the birth of Jesus Christ. Two others amazingly tell the same historical story about the creation of the beloved "Silent Night" Christmas carol in 1818, although you will find them remarkably different in execution. The final two films are set at Christmas time. Here they are:
Silent Night: Story of the Christmas Carol
(1953) 13 min., color. Excellent story about the creation of the famous carol in 1818. While this film has been issued in other Christmas video collections, this is the first time in Color!
Christmas is Magic
(1953) 24 min. Robert Hutton plays a war veteran with amnesia who is taken in by widow Frances Rafferty and her son on Christmas Eve. She helps him recover his memory while forming a bond. Produced for the obscure TV anthology series "Your Jeweler's Showcase."
Star of Bethlehem
(1956) 12 min., color. Story of the Nativity directed by Lotte Reiniger using her unique silhouette animation style.
Three Young Kings
(1956) 29 min. In Latin America three boys carry Christmas gifts to the mission children dressed as the Three Wise Men. When they ride through the poor section of town, the boys decide to give the presents to the ragged children following them, which causes a crisis in conscience in the community over the true meaning of giving. This episode of DuPont Cavalcade Theatre is introduced by Thomas Mitchell.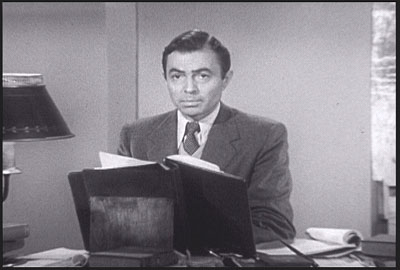 Star of Bethlehem
(1954) 26 min. Produced, directed by and starring James Mason, with the participation of his wife, daughter Portland and other child actors. Mason and his wife first read sections from the bible that lead up to the birth of Jesus. He visits his daughter in bed and their discussion leads into an enactment of the Nativity starring a cast of children. Jerry Mathers plays Joseph. A heartfelt, inventive and personal religious project by a Hollywood star at the height of his fame.
Starlight Night
(1939) 30 min. Opulent British docu-drama about the creation of the famous Christmas carol centers on a stern father estranged from his daughter.
Here are some prevue scenes:
Visit my websites at Festival Films and Lost and Rare.